How do I modify dates/times of my parking reservation?
If modifications such as date changes or time changes need to be made in a reservation, please cancel and rebook your parking reservation. Unfortunately, there is no direct way to make modifications to a pre-existing reservation.
*Cancellations are subject to current cancellation policies. (See next question)
How do I cancel my parking reservation? Is there a cancellation policy?
If you need to cancel your reservation,
click here
to login to your account. Then click on the
Reservations
link in the left column navigation. Click on the
Cancel
button to the right of the reservation that you wish to cancel.
All parking reservations are subject to a 48-hour Cancellation Policy, therefore must be cancelled 48 hours before the date of arrival.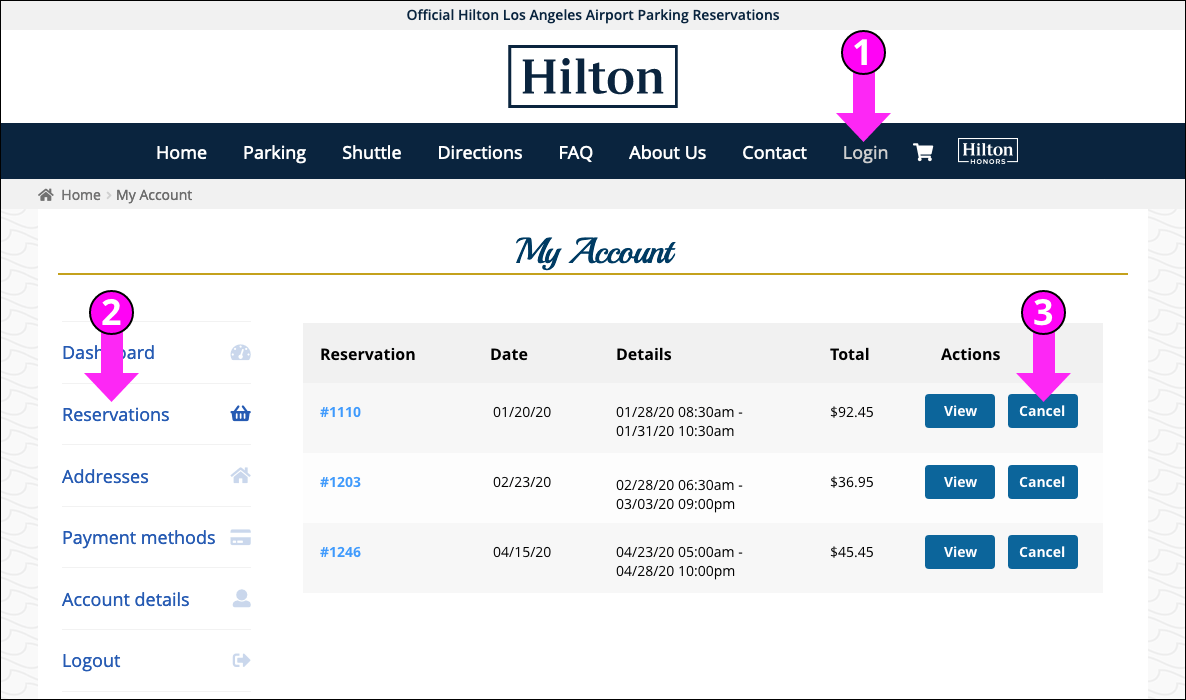 I have not received my confirmation email. What do I do?
Is there a minimum number of days I have to park my car for?
There is a 2-day minimum length of stay in order to create a reservation.
What happens if I overstay my parking reservation?
If the reservation is an overstay reservation, it will be subject to additional charges for every additional day. The remaining balances (overstay charges) will appear once you scan the QR code at the gate.
If you return prior to your reservation departure date, no refunds will be made for the remaining portion of your reservation.
Do I have in and out privileges with my parking reservation?
All Airport Parking reservations do not allow in and out privileges, they are only valid for a one-time entrance and exit to the garage.
If you return prior to your reservation departure date, no refunds will be made for the remaining portion of your reservation.
Do I need to print out my reservation confirmation?
It is highly recommended to have a print-out copy of your reservation, however the QR code can also be scanned using any mobile device. Please keep in mind that cell service may be limited.
Where do I board for the Hotel Shuttle? How do I get from the parking lot to the airport?
We proudly offer a complimentary
shuttle service
to all of our guests. The shuttle is available 24 hours per day, and departs every 15-25 minutes. *LAX is the 2nd busiest airport in the U.S., so some delays are inevitable.
From the Hotel to the Airport: The shuttle is located at the front entrance of the hotel and will stop at every terminal in the Airport.
From the Airport to the Hotel: When you arrive at LAX, retrieve your luggage on the lower level. Proceed to the transportation island and wait under the red sign that reads, "Hotel and Courtesy Shuttles." Look for the blue airport shuttle that says Hilton LAX on the display.
How do I contact customer service?
Our goal is to provide you with an unparalleled experience in customer service and satisfaction at the Hilton LAX. If you have any questions, please don't hesitate to call the number below or
send us an email
. We will address all of your concerns in a prompt and courteous manner.
Hilton LAX Customer Service (310) 410-6036
Is there a vehicle height limit to park at your facility?
Self-parking height clearance is 5′ 11″ Any vehicles beyond that height (up to 6′ 2″) must valet park. Our parking structure cannot accommodate oversized vehicles and if your vehicle is larger than 18′ 6″ long, 6′ 8″ wide, and 6′ 2″ high, it will not fit into our spaces.
We cannot accommodate dually pickup trucks, crew cabs, extended cabs, club cabs, Ford Expeditions and Chevrolet Suburbans.